You can even hear music from a Ginger Rogers/Fred Astaire in Charlie Chan at the Race Track (1936) half-way through the movie when Charlie is interviewing Helen Wood (as Alice Fenton), G.P. Huntley (Denny Barton)!
Manolo's Cabaret in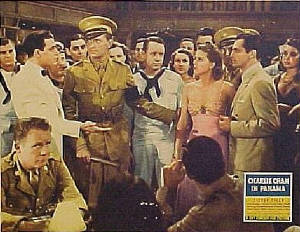 Charlie Chan in Panama (1940)
And then there is Vereda Tropical, sung by Jean Rogers (center in the photograph, played by Jean Rogers) in Charlie Chan in Panama (1940).
Check out the guy in the lower left-hand corner. He's staring at the camera out the corner of his eyes instead of the action on his left!