Edward Everett Horton and Betty Grable Do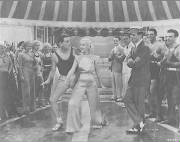 "Let's Knock Knees" with Fred Astaire on the Right
And speaking of backgrounds . . . .
They borrow music in a scene twenty-seven minutes into the film:
Charlie goes down to the bar and finds Gordon P. Huntley, Jr., (as Denny Barton) and Helen Wood (as Alice Fenton).
If you listen carefully, the music you hear is Let's Knock Knees from The Gay Divorcee (1934).
The Australian Racing Legend,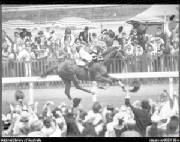 Par Lap
You can check out more about The Melbourne Cup, Australia's leading horse race at www.sport927.com.au by clicking on Phar Lap at right.
This is the race that starts off Charlie Chan at the Race Track and ultimately draws Charlie Chan into the international intrigue of sports betting!
Charlie Chan teaching about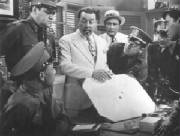 blood pattern analysis
Click on the photograph on the right
for a reprint from Maven's
Charlie Chan Annex from 2004.
It's about her actual encounter with
Charlie Chan in the flesh!!