Charlie Chan (Warner Oland) teaches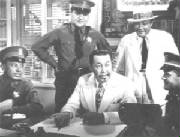 about blood pattern analysis
He was as knowledgeable, professional, and charming as ever but in disguise . . . as a Detective Constable for the Forensic Services unit for the Niagra Regional Police Service in Ontario, Canada.
He's going by the name of Craig Moore while he's here attending the 90th Annual Educational Conference for the International Associatio for Identification in Dallas.
Craig was kind enough to give us our own copies of his handbook for the three-day workshop he is giving on bloodstain analysis.
I could understand Lisa getting a copy since she had sent him a copy of Charlie Chan at the Race Track [1936]. Craig used two stills from the movie as part history and part illustration in his handbook on how knowledge and interest in blood patterns developed over history.
Chan, the teacher,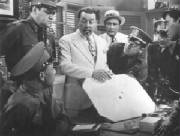 at work again
We were both fasinated to learn that Craig did Charlie Chan one better . . . . Craig developed and patented a demonstrative aid, a model design, to help jurors and students more easlily understand the theory of how bloodstain patterns occur in crimes--the relationship between the perperator and the blood pattern.
Lisa and I were fascinated by Craig's telling us about his Bloodstain Splatter Board Model, its use in the courtroom, his handbook and their development.
Craig gives a great deal of credit to Herbert Leon MacDonell. [That's not a misspelling. There is only one "N" in MacDonell's name!]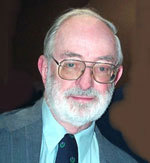 Herb MacDonell
Herb MacDonell had taught students of
Blood Pattern Analysis (PBA),
like Craig, for 30+ years.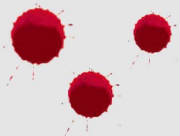 I would like to thank Craig for telling us about Mr. MacDonell, not only as his teacher but also as an inspiration to his students to carry on his "knowledge and similar desire to achieve more than the status quo."
The quote is from Craig but you know that he could have as easily been talking about Charlie Chan!
Craig basically started with Genesis (Chapber 4, Verse 10) to start showing the conection of bloodstain patterns to a commited crime.
His several references to books on Germanic Law show his theory as to how the riters of Charlie Chan at the Race Track (and therefore Charlie Chan) could have learned about bloodstain patterns.
[Going through his workbook with Craig also reminded me of scenes
S.S. Van Dine wrote in his Philo Vance stories called The Greene Murder Case and The Casino Murder Case. Their solutions involved libraries of crimes and law in German.]
Craig also quoted William Shakespeare and Sir Arthur Conan Doyle. [No wonder Earle Derr Bigger followed suit!]
MacBeth has stabbed king Duncan and says, "What hands are here! Ha! They pluck out my eyes. Will all great Neptunre's ocean wash this blood clean from my hands?" (Macbeth, Act II, Scene II.)
Sherlock Holmes " . . . pointing to numerous gouts and splashes of blood, which lay all around . . . . Then of course, this belongs to a second individual--presumably the murderer . . . ." ( A Study in Scarlet, Part 1, Chapter 3.)
Craig also mentioned that there are several designs similar to his but Craig's model is patented here and in Canada and used by more than two dozen agencies.
If our meeting with Craig was any indication of his workshop at the Dallas Conference, it will be a great success!