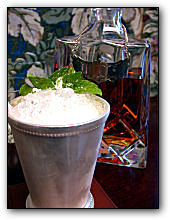 MAVEN'S MINT JULEP RECIPE
Maven got her family recipe for
Mint Juleps from her maternal
Grandfather from Tennesee:
Put some mint leaves, some surgar
and a little bourbon in the bottom
of a julep cup.*
Crush them together and then fill the
cup up to the rim with shaved ice.
Pour in the bourbon and enjoy!
*Okay . . . or whatever glass you have handy!
Comments, questions, suggestions and/or subscription
All photographs and book excerpts are the copyright of their owners.