Bela Lugosi's Dracula about to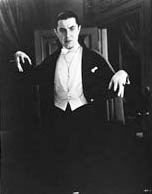 make a hit with the ladies
BLOOPERS AND GOOFS IN DRACULA (1931)
Maven frequently checks the Internet Movie Database (www.imdb.com) for various items about movies. However, sometimes she doesn't agree with them.
One such entry is listed as a "Factual Error": Joan Standing is wrongly credited as a maid, but she was actually playing the part of Briggs (a nurse). Moon Carroll played the uncredited part as a maid. She's the one who faints when Renfield is laughing very scary.
Maven wouldn't place Joan Standing on the next corner from her home to be honest but she recognizes Moon Carroll from The Thirteenth Chair (1929) [with Bela Lugosi, pre-vampire, as Inspector Delzante] and that's Carroll as the maid.
You also have to wonder about Renfield's eyesight. Either he had night-blindness or needed his eyes checked for not recognizing that Count Dracula was a dead-ringer for the coach driver.
Or maybe he didn't want to acknowledge such a bad pun on Maven's part!
A Dracula (1931)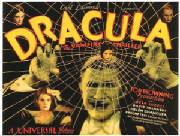 Lobby Card
Just who brings Renfield's things in from the coach and just who cooks that dinner for him?!
There is supposed to be another blooper when Renfield's attache case jumps from Dracula's hand to the table top becuase of a brief cut in the film.
You can see Dracula put it down if you look carefully at the close-up of the table.
The bed does get turned down mysteriously when Dracula's attention is suddenly caught up at Renfield cutting his finger.
The Ultimate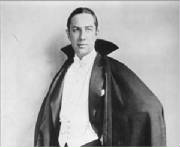 Vampire
There is also a geography glitch in Dracula (1939).
Dracula takes over "Whitby," a ruined abbey on the Yorksire coast (northern England) and Dr. Seward's Sanitarium is supposed to be nearer to London, well south of the Yorkshire coast.
Maybe they expected Dracula to fly back and forth?!
And then there is the boo-boo in "CONTINUITY: Whe the street doors of the London concert hall open to admit Dracula, the orchestra can be heard playing Shubert's 'Unfinished Symphoney'. But in the next shot, an instant later, they are playing the conculusion of the prelude to 'Die Meistersinger'." (www.imdb.com).
And how does Dracula know that Dr. Seward would be at that concert at that hall?
Later, if Renfield only wants flies and spiders, why does he creep towards the out-like-a-light maid like she's an especially juicy trantula on steroids?!