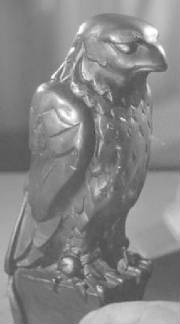 The Maltese Falcon
BEFORE THE LIGHTS WENT OUT, THERE WAS THE MALTESE FALCON. There is very little I can say about that one, because everything has been said. But anyway, "Shall we talk about the black bird?
So often, I ahve been asked "What was it like?" to work in a picture that was so ahead of its time, such a departure in methods, point of view, etc. Of course you don't know you're making history while you're in thee making it. We were, all of us excited about a good story--one that had everyone confused! However the "where was who when what happened" could be traced down. There wasn't a loophole in it. It helped a great deal that we shot the picture in sequence, except for some exterior night shots on the street set. But even so, John Huston often had to call time out to clear up matters. All of us had read the Dashiell Hammett book and studied the script, but it got so that when the "now just a minute" look ceme on to somebody's fae, it became a joke to say, "When did Brigid shoot Thursby? On Friday!"
Walter Huston (left) and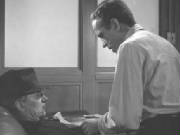 Son and Director, John Huston
. . . If you recall, a tall burly figure staggers into Spade's office late one night, clutching a heavy package wrapped in torn newspapers. he is dressed in the clothes of a seaman, wih his peaked cap pulled down over his eyes. He is the captain of the ship which burned in port late that afternoon. He mutters something about "the Falcon--the bird--" and falls dead on the floor of the office with some bullet holes in him.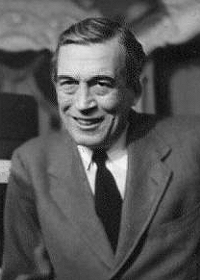 John Huston, Director
Just a bit--you never saw him before--and that's all he has to do, just stagger in and fall and drop the package. John thought it would be great fun to have his father, Walter Huston, come in one morning and do the part. And so did Walter--his son's first movie, etc. A bit of fun-sentiment.
John took hours to film it, and Walter got very grumpy: "Didn't expect to hae to put in a day's work."
"Let's do it again. Sorry, Dad, you missed your mark."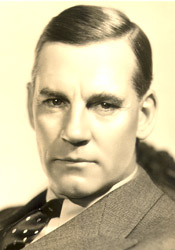 Walter Huston, Actor
"Take seven. Sorry, Dad, This time try it without staggering so much."
"Take ten, please. Sorry, Dad. We've got to reload."
"The next day, after they'd seen the rushes [what ]they had already filmed]--they were fine, of course--John told me to call Walter's home and pretend to be his, John's secretary. I called on the set phone and when Walter answered, I told him that mr. Huston was sorry, but that he'd have to retake thesequensethat afternoon--something had happened in the film in the lab--and could he be ready to shoot at one o'clock?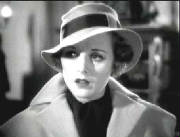 Mary Astor
I held the receiver from my ear and everybody coud hear Walter yelling. "You tell my son to get another acotr or go to h*ll! He made me take twenty falls, and I'm sore all over. and in not about to take twenty more. Or even one!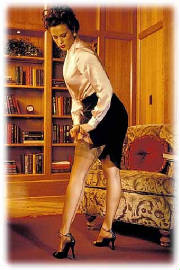 Old-fashioned Stockings
It all started one afternoon when we were lined up on a shot where I sit down and cross my knees elaborately-- I think it was in Spade's office. I looked down and said, "Hold it a minute, I've got a [expletive] run in my stocking." I looked up and a litttle to the side of the camera was the publicity man with a half-dozen gentlemen of the cloth. they were ushered out politely by the publicity man who looked a little pale. When the big doors closed, everybody whooped and hollered and said, "That's our girl! That's the way to get 'em off the set!" After tht John dreamed up an act for each of us--designated by numbers. A strean of Helen Hockinson type club women would come in cooing with the excitement of
Humphrey Bogart, Sidney Greenstreet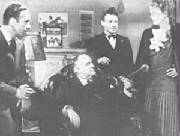 Peter Lorre and Mary Astor
seeing Bogart, and John would sing out, "Number Five, kiddies, Number five!" At which Bogie would go into the prepared act with Greenstreet. He'd start yelling at him, calling him a fat old fool, "Who the hell do ou think your are? You upstaged me, and I'm telling you I'm not having any--" and John would be pleading with him to haold his temper. Very quickly, the uncomfortable and disillusioned ladies would exit and we could go back to work.
Mary Astor, Humphrey Bogart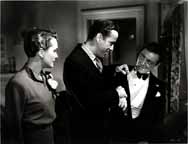 and Peter Lorre
"Number Ten" was a bit more involved. I had to get into my portable [trailer] with Peter Lorre before a group got over to where we were working. when they had been guided into position by the gracious John Huston, saying politely, "I think you'll see just fine right over here," in sight of the door of my dressing room, he would then call out, "O.K., I think we're ready for Nmber Ten, now." Peter would open the door and come down the steps fastening his fly, and I would stick my head out the door waving my fingers as he said, "See you later, Mary."
Our long-suffering publicity man was not stupid. He fianlly came to John saying, "May I have your permission, sir, to bring over some rather important guests this afternoon? Without benefit of your [expletive] gags?" And John said, "You can try, my friend, you can try." Soon the Falcon company became a closed set and we could get our work done without people gaping at us.
Reprinted from The Old Movie Maven Blog, August 23 and 24, 2005
Downtown San Francisco in "The Maltese Falcon"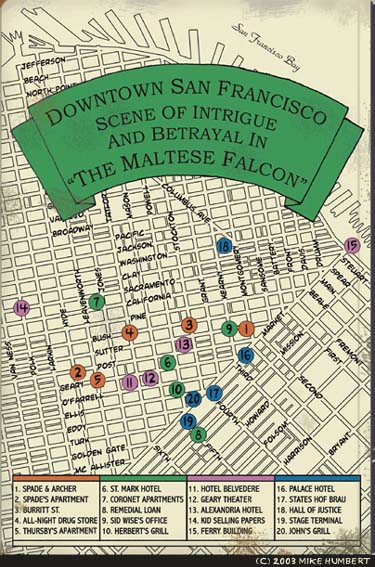 to "The Maltese Falcon"