Please check on the ultimate Maven Adventure
Take care,
Maven
Boris Karloff and Bela Lugosi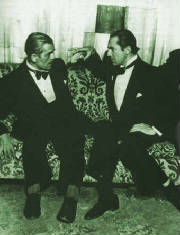 Here They Go Again!
HAPPY 75th ANNIVERSARY!
To Universal Studio's Best-know
and Most-loved Creatures!
Bela Lugosi's Dracula and
Boris Karloff's Frankestein's Monster!
If you'd like to read more about them,
just click above on the Horror
buttons just for them!