CHARLIE CHAN QUIZZ # 1
Can you name this bad guy who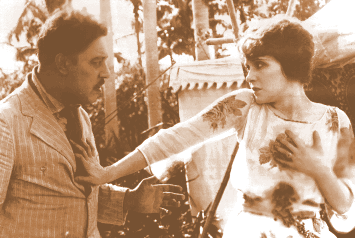 ended up playing Charlie Chan?
WARNER BAXTER
BELA LUGOSI,
RIGHT AFTER HIS BREAK-THROUGH
ROLE OF DRACULA (1931)
Charlie Chan Carries On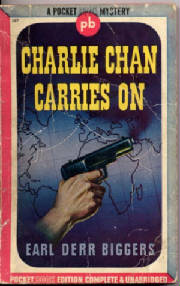 Can you name the three Chan movies made from the book?
1. CHARLIE CHAN CARRIES ON
(1931 WITH WARNER OLAND)
2. ERAN TRECE (1931 - WITH
MANUEL ARBO IN THE SPANISH VERSION)
3. CHARLIE CHAN'S MURDER CRUISE
(1940 WITH SIDNEY TOLER)
Can you place this still as to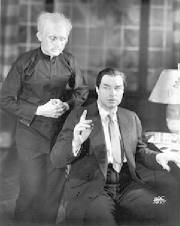 the story, actors and roles?
IT'S FROM KEEEPER OF THE KEYS (1932), THE ONLY CHAN NOVEL THAT WAS TURNED INTO A BROADWAY PLAY INSTEAD OF A MOVIE.
DWIGHT FRYE (LEFT AND LATE OF DRACULA WITH BELA LUGOSI) IS THE CHARACTER OF "AH SING" AND WILLIAM HARRIGAN IS CHARLIE CHAN, HIMSELF!